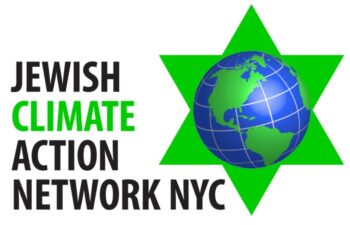 "This Sukkot:  Jewish Climate Action and You"
Wondering what more you can do on climate? Looking for a spiritual connection to action within our tradition?  Please join a special event we are co-sponsoring for people of all ages to learn about what our tradition has to say about protecting the planet, something our sages have much to say about. Hosted by JCAN NYC, This Sukkot: Jewish Climate Action and You, on Sunday, October 16, from 11:00 AM – 1:00 PM, at the Marlene Meyerson JCC Manhattan, celebrates the relationship between Judaism and climate action. Listen to young people speak about their climate journey. Connect with others who share your concern. Bring your children and participate in family-friendly activities. Check out information tables on:
How to green your home, synagogue, and other spaces

Advocacy in action – get to know JCAN NYC campaigns

Youth climate action and advocacy

Talmud study on the tractate of Sukkot, led by a Columbia University climate      scientist

An introduction to JTree tree planting work

Money and climate: how personal and institutional investments can make a difference

NYC residential composting

Hands-on activity for children – planting seeds and caring for a growing plant
RSVP: bit.ly/climate-sukkot
Co-sponsors (list in formation):  Ansche Chesed, The Beis Community, Beit Rabban Day School, B'nai Jeshurun, Bronx Jews for Climate Action, City Congregation for Humanistic Judaism, Congregation Shaare Zedek, Darkhei Noam, Dayenu, Fort Tryon Jewish Center, GreenFaith, Hazon, Hebrew Institute Riverdale, Hebrew Tabernacle, Jewish Earth Alliance, Jewish Climate Action Network NYC, Jewish Theological Seminary, Jewish Youth Climate Movement, Kehilat Hadar, Lincoln Square Synagogue, Marlene Meyerson JCC, NY Renews, Park Avenue Synagogue, Ramath Orah Synagogue, Ramaz School, Romemu, Sane Energy, SAR Academy, Sierra Club NYC, West End Synagogue, YCT Rabbinical School
This is part of the Global Faiths4ClimateJustice campaign
leading up to the next round of global climate talks.