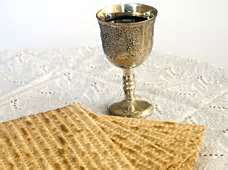 Spring is only a month away and that means Hebrew Tabernacle will soon invite our members and friends to our Annual Community Seder!  With great joy, we announce that it will be on the 1st night of Passover, April 5th, (14 Nissan), and will be an in-person event, with the opportunity for folks to join us on Zoom.
Over the last two decades, generous support has made it possible to continue this tradition. Last year was no exception. In fact, we raised more in donations than any other year in the past decade.  This made it possible to cover the waiters, custodians and the costs of operating the building during the event all while charging less than our caterer charged us for the meal alone (which was 40% more than in previous years due to inflation).  While we viewed this as a big success, at $65/meal, it didn't exactly feel "affordable" to all.
So, this year we wanted to try something a little bit different. We are hoping that it will bring the cost down substantially for our members, friends, and neighbors who will gather to share this delicious meal and meaningful Seder as a community. Please join us in this fundraising experiment:
For every $200 that we receive in donations, the cost to attend the Seder for everyone will be lowered by $1.
These are the details of our plan:  Based on last year's meal price, the level of participation, and factoring in everything associated with putting on the event, we estimate that the real cost was approximately $90/per person. The starting ticket price for this year will be the same as last year, $65/person.  For every $1,000 that we receive in donations, between now and March 8th, the price per ticket will be reduced by $5 for everyone.  The final price per ticket will be determined on March 9th and announced soon after.  Our goal is to raise $9,000, getting the cost down to $20/ticket, which will be the lowest price we'd offer.  This is totally doable with your help!
But more important than the cost, and even though we are in the middle of winter, it's time to get excited for the Spring and an EXODUS from our homes to hear the story of how we went from bondage to freedom!  Our Seder, conducted by our own Rabbi Paula Feldstein and her husband, Rabbi Jordan Millstein, will be a warm, spiritual, and welcoming experience in our Social Hall, with a traditional, full-service, sit-down catered Kosher meal.  More details about meal choices and tickets will be available soon!
As you think about our growing community and all it has provided over the past year, please consider this as one of the ways you can give back that has a definable, immediate impact.  May we count on your generosity to ensure the success of the 2023 Seder?  Please donate using the form below.