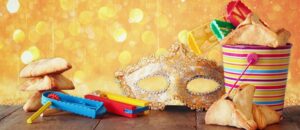 On Purim, it is traditional to give Tzedakah and to send portions of food (Mishloach Manot) to your friends.  You can fulfill two mitzvahs at once by ordering an assortment of goodies through the Hebrew Tabernacle Hebrew School for your friends and family. Each package is given anonymously, with a card that reads, "Enjoy this special Purim treat from your loved ones and all of us at the Hebrew Tabernacle Hebrew School."
Everyone who receives Mishloach Manot will get an email letting them know that a package is waiting for them. While delivery of Mishloach Manot is not available for this year, please contact the office if there is a special need and we will try to make it happen. If you are willing to bring a package to a neighbor in your building or on your block, please let us know that as well.  They can be picked up at the following times:
Sunday March 5th, at the Purim Carnival 12 PM – 4 PM 

Monday March 6th, at the Purim Un-service 6:30 PM

Wednesday March 8th, from the Hebrew Tabernacle office 10 AM – 4 PM
The easiest way to order is through the form below. If you'd prefer to use a paper form, one can be printed, here.  If you'd like to make an additional contribution to help fund this program, your generosity will be put to good use. Every year we bring packages to nursing homes and to those who otherwise might be forgotten on this festive holiday. To contribute, please add the donation amount to your order.
The order deadline is Saturday, March 4th.
Have questions? Need help ordering? Call or email the Hebrew Tabernacle office at 212-568-8304 or office@hebrewtabernacle.org.