Happy Purim!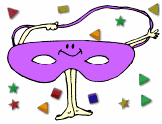 On Purim it is traditional to give tzedakah to worthy causes and to send portions of food (mishloach manot) to your friends. You can fulfill two mitzvahs at once by ordering through the Hebrew Tabernacle Hebrew School. Your friends will receive lovely assortments of baked goods, fruit, candy and nuts.
Each package is sent anonymously with a card saying it's from a "Friend of the Hebrew School". (NOTE: Some of our Hamantaschen that will be baked in the HT kitchen by congregants will be kosher. In addition, some of our volunteer bakers have kosher kitchens, so specially marked kosher packages are available upon request.) We also offer a Deluxe bag which includes more of everything as well as juice and fresh fruit. The Deluxe bag comes with a card identifying the sender(s).
We are asking that you pick up your bag at the Purim Carnival, Sunday March 5th between 12 noon and 4 pm. We will be able to deliver bags within walking distance of Hebrew Tabernacle and also to Inwood. Come to our booth at the Purim carnival to pick up your order, or to see if someone has been able to deliver it for you! If you are willing to deliver a bag to a neighbor, please check if there are any bags for your building when you pick up your bag, or note it on your order form.
Help make our fund-raiser a success: If you'd like to make an additional contribution to help with distribution of mishloach manot, your generosity will be put to good use. Every year we deliver packages to nursing homes and to those who otherwise might be forgotten on this festive holiday.
Click here for the online order form. You can order up to five boxes at a time. You will receive an email confirmation after each order. When you have completed all your orders, calculate the total based on the table below, and then either send a check to the Hebrew Tabernacle office or pay online with PayPal.
To order the old way using the paper form, print this out and follow the instructions. Mail or deliver your order, along with a check payable to The Hebrew Tabernacle, to 551 Fort Washington Avenue, NY, NY 10033. Please write "mishloach manot" in memo section of your check. Please use the back of the page, or attach another sheet, if you need more space.
Our pricing structure makes it easy to give packages to all your friends in the neighborhood: the more you buy, the less you pay per box!
| | |
| --- | --- |
| Number of regular boxes | Price |
| 1 | $8 |
| 5 | $35 |
| 10 | $60 |
| 18 | $90 |
Deluxe packages are $15 (4 for $50).
The order deadline is Monday, 3/11/16 at 3 pm. If you have any questions, please e-mail David in the Tabernacle office or Shelly Koy. You can also e-mail your orders with names and addresses, but do send checks to the synagogue office. You can also call the Office at 212-568-8304.
PLEASE GET YOUR ORDERS IN EARLY so we can accurately estimate the quantities of supplies we need. And PLEASE include the recipient's full address, including apartment and phone number – it makes delivering much, much easier!
The Hebrew School urgently needs support so PLEASE HELP US IN ANY WAY YOU CAN! To contribute, please contact David in the HT office or call 212 568-8304. To volunteer, please contact Shelly.
Don't forget our Erev Purim events on Saturday, March 11th:
6:00 pm: Student "Chai for a pie" pizza dinner
6:30 pm: Purim Service
7:10 pm: Adult Purimspiel
7:30 pm: Adult "Chai for a pie" pizza dinner