Join Us!
Membership Forms
Hebrew Tabernacle has four classes of memberships:
| | |
| --- | --- |
| Tot | (one or two adults, all children pre-school age) |
| Hebrew School | (one or two adults, one or more children in Hebrew School or Hebrew High School) |
| Adult | (one or two adults, no children enrolled in Hebrew School or Hebrew High School) |
| Senior | (one or two adults, (both) 65 or older) |
Click the links below to download and complete the associated form.
Dear Prospective Members: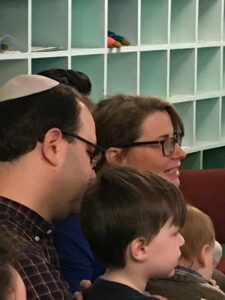 Shalom! Thank you for your interest in being part of the Hebrew Tabernacle congregation, a center of progressive reform Jewish life in Northern Manhattan.  As a diverse community, we welcome people who seek an inclusive, mutually supportive, spiritual home.
Rabbi Paul Feldstein and Student Cantor Kalix Jacobson lead us in bringing Judaism to life through participatory worship services, including Family Services and Tot Shabbat.  We engage actively with Judaism, putting our hearts and minds into understanding and connecting to Jewish religion, ethics and culture.
We are an inclusive community, composed of diverse adults and families, including interfaith, inter-racial, single-parent, lesbian/gay/transgender families and intergenerational Holocaust survivor and refugee families.  
Our heritage and the progressive values of our young families both lead us to be advocates for today's refugees and immigrants.  And our building is home to another Jewish congregation and two churches. 
Services, Hebrew School and Adult Education
Check our calendar for Holiday and service schedules.
Our Hebrew school provides an engaging education to children from kindergarten through Bar/Bat Mitzvah, and most teens continue with our lively Hebrew High School. Our Hebrew school has a wide-ranging curriculum: Torah; Jewish life and values, history and identity; Israel, mitzvot (commandments); and Hebrew and prayers. 
Adult learners enjoy weekly Torah study with Rabbi Paula, right after Shabbat services.  Volunteers lead the Book Club and the Film Club discussion groups.  Hebrew Tabernacle is also a neighborhood hub for social and cultural activities, offering concerts, book fairs, plays, and film screenings.  All these activities are on our website.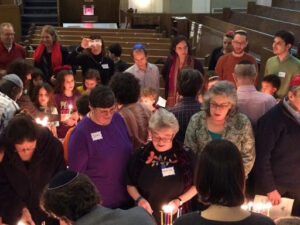 We encourage you to get to know us better by attending services and events. Check out our monthly Bulletins. Guests are always welcome at the Hebrew Tabernacle, but by joining as a member, you become part of a multi-generational Jewish community of exceptional warmth and support.
For further information, please feel free to reach out to the Co-chairs of the Membership committee Rita Hamburgh or Desma Holcomb by calling our synagogue Office (212-568-8304) or emailing HToffice@nyc.rr.com. We look forward to welcoming you!
Additional benefits of membership include:
Ability to engage our part-time clergy for life-cycle events, in addition to Bat/Bar Mitzvahs. 

Reservations for our High Holiday services, at no additional cost & discounted High Holiday reservations for members' guests 

Discounted Hebrew School tuition

Reduced cost of graves in our Cedar Park Cemetery plots

Discounted license fee for the air-conditioned Social Hall, Sanctuary, or other rooms for private affairs and life-cycle events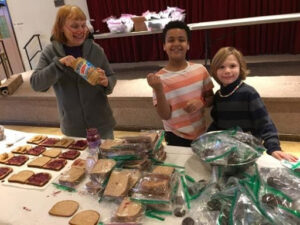 For detailed information regarding the different membership categories, contribution levels and our sliding scale, please contact the Tabernacle Office
212-568-8304 or HToffice@nyc.rr.com