Join Hebrew Tabernacle!
Membership Forms
You can now join or renew your membership online here.
If you will be joining and also registering your child(ren) for Hebrew school, please use the form found here.
If you would rather print out and mail your membership forms, find the appropriate member category below, print the PDF and mail it to 551 Fort Washington Ave, NYC NY 10033. 
Hebrew Tabernacle has four types of memberships:
| | |
| --- | --- |
| Tot | (one or two adults, all children preschool age) |
| Hebrew School | (one or two adults, one or more children in Hebrew School or Hebrew High School) |
| Adult | (one or two adults, no children enrolled in Hebrew School or Hebrew High School) |
| Senior | (one or two adults, (both) 65 or older) |
Additional benefits of membership include:
Ability to engage our part-time clergy for life-cycle events, in addition to Bat/Bar Mitzvahs. 

Reservations for our High Holiday services, at no additional cost & discounted High Holiday reservations for members' guests 

Discounted Hebrew School tuition

Reduced cost of graves in our Cedar Park Cemetery plots

Discounted license fee for the air-conditioned Social Hall, Sanctuary, or other rooms for private affairs and life-cycle events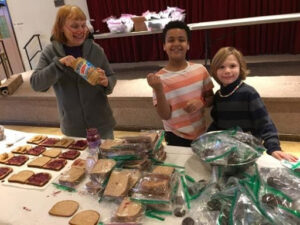 Despite the impact of the pandemic on our budget, our Board of Trustees is committed to keeping entry-level membership affordable to everyone. Membership includes High Holiday reservations.  Supporter and Donor levels, for those who have the means and inclination, are encouraged and play a vital role in meeting our financial goals. At the same time, we know that many have been financially affected by this crisis, and we will not allow money to be an obstacle to membership. 
We have a standard dues rate for adults (single and couples) and discounted memberships are available, as needed, for new members, seniors, families with children (Tot Shabbat or Hebrew School age). 
Got questions or concerns? Please feel free to reach out to the Co-chairs of the Membership committee Rita Hamburgh or Desma Holcomb by calling our synagogue Office (212-568-8304) or emailing office@hebrewtabernacle.org.
We look forward to welcoming you! And please let us know if you need a payment plan or reduced dues or tuition.