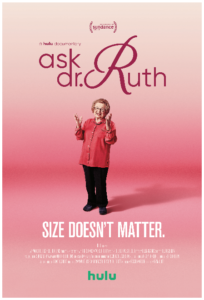 America's favorite sex therapist is coming to the screen!
FREE Community Screening of hulu "Ask Dr. Ruth" documentary film
Sunday, May 19 at 5 pm at Hebrew Tabernacle
551 Ft. Washington Ave. 185th St entrance
Screening followed by Q&A with Dr. Ruth Westheimer, moderated by Y CEO Martin Englisher
Light dinner fare follows.
RSVP on Evite (with optional donation)
WATCH THE TRAILER for this biographical documentary
Co-hosted by YM&YWHA of Washington Heights 

"Sex is hot, but our building needs to be cool!" 
If you'd like to pay by check, you can download and complete the Sponsorships & Program Ad form here.
Proceeds from Sponsorships and Program Ads will improve the building—which houses four faith communities and many community classes, art exhibits and events—including a new air conditioning system.
Be a "Good Sex" Sponsor and / or Place an Ad!
Sponsor Level
Minimum
Donation
Ad type
Ad dimensions
(length x width)
"Enchanting"
$9,000
Full page, back cover
8″ x 5″
"Captivating"
$8,100
"Fascinating"
$7,200
Full page, inside front or back cover
8″ x 5″
"Desirable"
$5,400
"Alluring"
$3,600
Full page
8″ x 5″
"Beguiling"
$1,800
"Attractive"
$1,008
Half page
4″ x 5″
"Bewitching"
$720
"Irresistible"
$540
Quarter page
2″ x 5″
"Engaging"
$360
If you are placing an ad, forward the text or any PDF/Word or other files via email to HToffice@nyc.rr.com.   Text is due May 6; camera-ready ads are due May 10.  All ads are positioned on a first come, first served basis.  Size specifications are approximate.
CLICK HERE TO MAKE A PAYMENT TO SPONSOR THIS EVENT AND / OR PURCHASE AN AD.  On the Donate form, select the Ask Dr. Ruth event in the Donation fund drop-down box.
You may also make donations to this event, or purchase a half page or quarter page ad, without being a sponsor.