PASSOVER 2019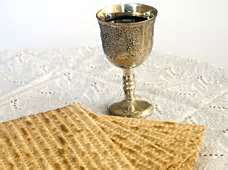 Join us in our Congregational Family Community Seder, which will be held on the first night, Friday, April 19, 2019 at 6:30 PM, immediately after the brief Sanctuary service which begins at 5:30 PM.
Our moving and melodic traditional Seder Service will be conducted by our clergy, Rabbi Jeffrey Gale and Student Cantor Robby Wittner. As always, it will be an evening of conviviality, learning and song. Of course, a strictly kosher meal will be served, with a choice of beef, roast chicken, or vegetarian, and a child's meal option (chicken fingers). For dessert either fruit salad or sorbet is available.
As we found in past years, starting our service a little earlier will ensure that the evening concludes close to 10:00 PM. Since "open seating" proved popular, we'll continue with that policy, so there is no need to indicate in advance with whom you would like to sit.
Thanks to the generosity of the many contributors, we've been able to keep the cost to Tabernacle, Fort Tryon and Beth Am members and their guests at only $50.00 per person, or $55.00 for non-members. To encourage families with children to participate in this Seder, the charge for each child from 4 to 12 years of age is $25.00. Children under 4 are free.
Aides or companions, attending with some of our elderly participants will also be accommodated at half-price of $25.00. Moreover, if these costs present a hardship for any members, provision can be made for additional financial aid, if you will contact the temple office.
We hope you will join us for our Congregational Family Seder. Please complete the online form indicating your choices of main course (and dessert). After completing the form, you can choose to pay online with PayPal (credit cards accepted), or by check payable to the Hebrew Tabernacle.
You must complete your reservation submission by Monday, April 15 at noon.
You can also print out the reservation form and bring it to the office with your payment.