MLK Weekend of Service 2022
Save These Dates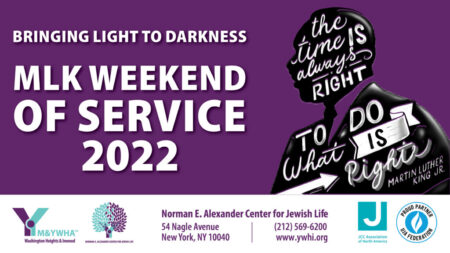 Join the Northern Manhattan community for a weekend of service and inspiration to honor of the legacy of Martin Luther King, Jr., generously supported by a grant from UJA-Federation of New York.
Friday, January 14 and Saturday, January 15
Hebrew Tabernacle:
7:15PM Service
7:55PM Sermon
Dr. Miriam Frank "The Life and Times of Three Prophets: Miriam the sister of Moses, Rabbi Joachim Prinz, Rev. Martin Luther King, Jt."
Click 
here
 for zoom information.
---
Justice-themed sermons, insights, and inspiration at local synagogues.
Additional details to come.
Sunday, January 16
1:00 – 3:00 p.m.
Housing justice panel discussion with Yvonne Stennet, CEO of CLOTH on Housing Justice in Washington Heights and Inwood; Marc Greenberg, CEO of Interfaith Assembly on Housing and Homelessness; Councilwoman Carmen DeLaRosa; and others. 
Register for Panel Discussion Here
---
Food packing for City Meals on Wheels. 
Where: The Y of Washington Heights and Inwood 54 Nagle Ave
When: Monday, January 17, 10:00 a.m. – 4:00 p.m.
Outdoors — 1 hours shifts
Register for Food Packing Shifts Here
Please bring non-perishable food items to be donated to the Community Fridge on 181 and Ft. Washington. Best donations are those that don't require cooking or a can opener to open. (Volunteers must have proof of COVID vaccine)
---
"March On! Family Field Day in Memory of MLK, Jr." with PJ Library
Where: Located at the track/field next to the Y at 54 Nagle Ave
When: Monday, January 17, 10:30 a.m. – 11:15 a.m.
Register for "March On! Family Field Day" here
---
Participating organizations: Beth Am: The People's Temple, Hebrew Tabernacle Congregation, Fort Tryon Jewish Center, The Beis Community, Mt. Sinai Jewish Center, Shenk Shul, Twenty Somethings Minyan, and  Moishe House of Washington Heights.
For more information, please contact Y Norman E. Alexander Center for Jewish Life Director Rabbi Ari Perten at aperten@ywhi.org.
---